Welcome to the first issue of Artside, the newsletter of From-Sketch-to-Oil-Painting.com.
I've been at my busiest for years these last few months, keeping my business on the boil in a recession and trying to develop from-sketch-to-oil-painting.com in the all too few hours left in the week. In these times making money with your art is harder than ever but I know that it is still doable if artists diversify to take advantage of every available opportunity. If you haven't seen my section on selling art online yet click on this link. Sell Art Online
I've had a very positive response to my tutorial on the flemish technique. I have been working on another demo of this classic painting method. The only drawback is the long, long period of time it takes to complete a painting this way. I apologize for this and will make every effort to finish it as soon as humanly possible.
To get immediate access to the tutorial as soon as it is posted make sure you subscribe to my RSS feed which you will find on pretty much every page on the site or bookmark my blog
I will be going through the Flemish technique in more detail than before.
In the meantime...
Drawing Animals in Pencil ebook.
I've put together an ebook on one of my creative passions. I love drawing animals whether wild or pets, whether for pleasure or profit and this ebook shows how I do it. 486 pages and well over 900 illustrations make this huge ebook a good source of knowledge on highly effective methods and processes. It is available on the secure Clickbank site. Have a look at my description page here. Drawing Animals in Pencil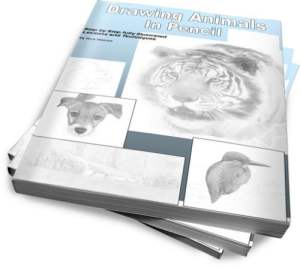 Your Space
Share your art with me and other users on the site using Your Space You can upload, comment, rate and discuss your artwork on these pages. This is an area of the site I want to see develop as it has been very important for me as an artist to be encouraged, inspired and instructed by others.
Freebies.
I came across this interesting online ebook on sketching. Lots of good general advice. Click Here
Looking for Free reference photos? This is a completely free, very nice service that deserves our support. Photos 4 artists offers photographs useful for the landscape artist. My only criticism is that the site isn't the easiest to navigate but that is small potatoes in comparison to the benefits. It is rare to find free resources that really are free on the net.
Recommendations.
Andre Grobbler's wonderful and inexpensive oil painting lessons are little gems for beginners and intermediate oil painters.
Are you interested in drawing the human figure? An excellent drawing course covering everything you need to create successful, beautiful drawings.
Thank you for using my site and if you have any suggestions, comments or other enquiries please contact me here
New!

Comments Leave a comment in the box below.