Candy Gang Comics
by Chet Pickens
(Maywood IL.)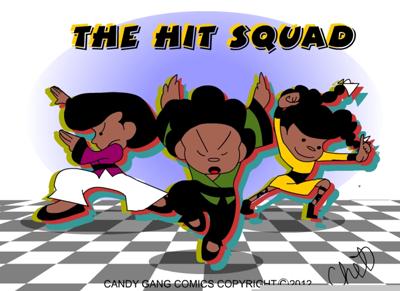 In dreams anything is possible ,espically when chet dreams..hit squade is one of those dreams
These little rascals is sure to steal your heart...they are always on the go! The Candy Gang books are full of cute one-pagers about a lovable, scrappy buncha kids getting into Peanuts-style hijinx... "When the community is your playground, mischief is a way of life." -EF
As a young kid I always loved to draw different thing but my passion was to be a cartoonist. At 10 years old I created the Gandy Gang characters and never forgot that dream ,over the recent years the strip has been in several newspapers and now finally, cards, posters and comic books are in chicagoland independent book stores.

purchase at Quimby's Bookstore 1854 W. North Ave. Chicago, IL 60622 773-342-0910 www.quimbys.com

Challengers comics 1854 n. western ave. chicago,IL 60647 773 278-0155 www.challengerscomics.com.....

Chicago comics 3244 n. clark st Chicago IL. 773 528-1983,
Join in and write your own page! It's easy to do. How? Simply click here to return to Your Drawings.