Drawing People.
Drawing People is a wide area. Drawing faces, female figure drawing, eye drawing and pencil drawing the human figure are all popular subjects within it. The tutorials below will give you the skills to get you started on several topics. I have divided the tutorials into male and female with separate lessons on drawing children.
Free Drawing Lessons are available on from-sketch-to-oil-painting.com and always will be. All the tutorials are provided without charge. By learning to draw I hope to encourage you to create your own paintings. Of course if you aren't interested in painting you are still free to use any of the tutorials to develop your skills for fun and/or profit.
Each free drawing lesson on Drawing People starts with a breakdown method and explains the different proportions you need to take into account. All lessons are pencil based. Approach each drawing with fresh eyes keeping in mind that I do not teach the standard method of draw a triangle here, draw a rectangle there and as if by magic a perfect drawing appears on the page. Drawing takes a planned, careful method that has to be adapted for each piece of work that you do. The way a person is sitting, the angle of their limbs, age and gender cannot be dropped easily into a single, standard approach. Despite that it isn't at all difficult to draw people. Perseverance triumphs over natural talent.
I tend to differentiate between drawing and sketching. Sketching is loose and rapid, the kind of skill needed to get subjects down on paper quickly. A practical skill if you intend to work from life.
Drawing for the purposes of this site means planned and careful work that stands on its own or that can be transferred to a painting.
The skills for both drawing and sketching are the same so my tutorials will suit you whatever you want to do.
If you are interested in portraiture or figure drawing then this is the place to make a start. Many people have told me that they find drawing people, faces, bodies, etc incredibly hard. It isn't hard. It isn't easy either but believe me it can be learned by almost anyone with time and effort. It helps to get drawing tips from someone who has been there and persevered and eventually turned out some good work.
Drawing from life is my preferred avenue but working with photographs is acceptable particularly where children are concerned. I tend to draw my youngest daughter when she is asleep or concentrating. See below.
She tends to go trancelike when watching television so I always have paper and pencil handy. The initial sketch for this example was drawn when she was watching a spider dismember an unfortunate fly outside our lounge window. She still manages to look cute.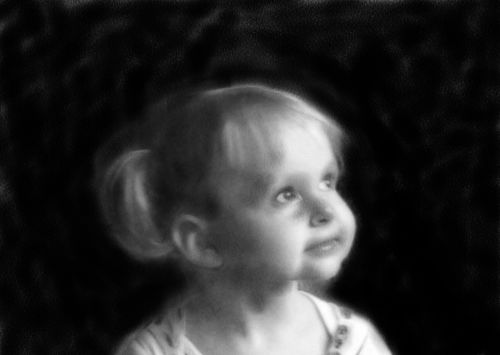 Face Sketches

Girl Sketches

Two in one lesson.

Female Sketch.

A study of a female face.

Sketch of a Woman.

Drawing Children

Drawing Faces - Male

Eye Sketch

Sketch female eyes.

Eye Drawing

Drawing People-Crowds and Small Groups.

People Sketches Methods for drawing from life.
Hand Drawing.

Draw a basic hand and then draw in more detail. A two-in-one tutorial in pencil
Hand Sketches Two Lessons in rapid sketching.
---
Have you got a drawing of a man, woman or child to share? Or anything else related to Drawing People.
Show us your drawing, share a tip about proportions/anatomy or anything else relating to Drawing People. With the option to upload up to four images you can record how you made your drawing turning your contribution into a mini tutorial.

What Other Visitors Have Said
Click below to see contributions from other visitors to this page...

Please look at the page on Drawing Supplies if you require any advice on paper and pencils etc.
I had to share this excellent link with you that will help you with your interest in Drawing People. Pencil sketches of people are the most popular art of pencil drawings. There are many categories that you can have a look.
I had to share another great site filled with useful information Drawing Pencil SketchesA great way to learn how to start drawing.
Return Home from Drawing People