Horse Painting In Oils
This demo will show you how I approach Horse Painting in oils.
I saw a beautiful Shire Horse at the roadside a few months ago and luckily was carrying my camera. I took a few shots and two turned out to be ok so I decided to use them as the basis of an oil painting. If you have looked at some pages on my site you will see I am not a fan of painting from photographs but I do not rule them out. Many people do use them on a regular basis. Some of you have been very vocal about this (you know who you are, lol) so I thought I'd go with it. The fact that it was freezing cold and the ground covered in snow and my warm home beckoned me had nothing to do with it.
One way that I think photographs can be used without the worry that I may carry forward any distortions made by the camera, is to paint in a blocky, heavy handed way. I won't worry about details and accurate colours. I'll plunge in without too much planning. My Horse Painting In Oils should therefore have an informal appeal (If I get it right!)
I sketch the horse (and wall in front of it) simply. An outline really, in Hb pencil. This is a ready primed oil paper (roughly cut to A3 size) which is great for practice pieces.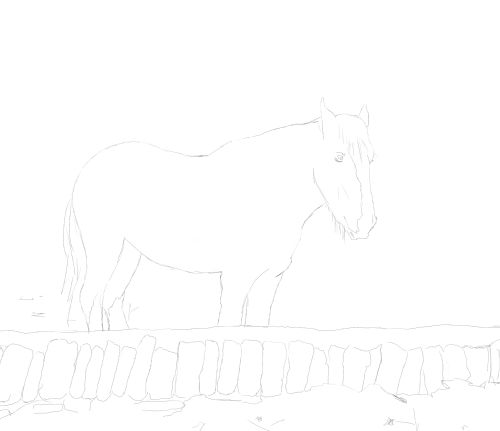 I used a mix of ivory black, cobalt blue and viridian for the darkest parts which as you can see included areas of the wall. I used the paint quite thickly with perhaps a fifth of linseed oil. I did this with a two inch flat. I decide that I won't paint in the animal's tail at this point. I like the look of the curve of the leg and don't want to distract the eye from it.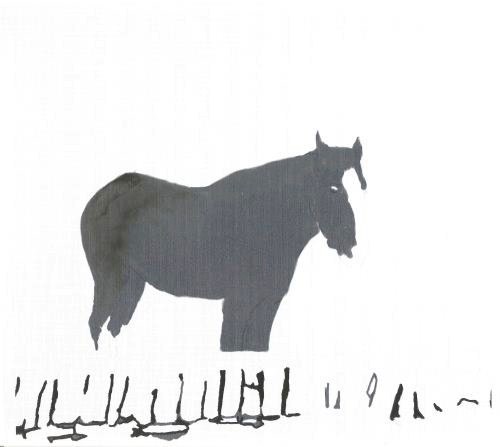 Now I added a purplish violet to the horse's body. Just added red and more blue to the mix in small amounts until I got the right colour.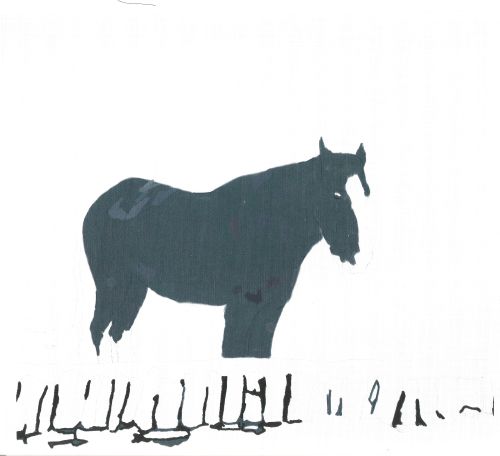 I added viridian with a little black, three different tones. I worked with heavy, slow pressure along the flanks and spine, finishing with a dab or two on the face. This wasn't following any real plan. I just wanted to create some sense of colour change on the dark body.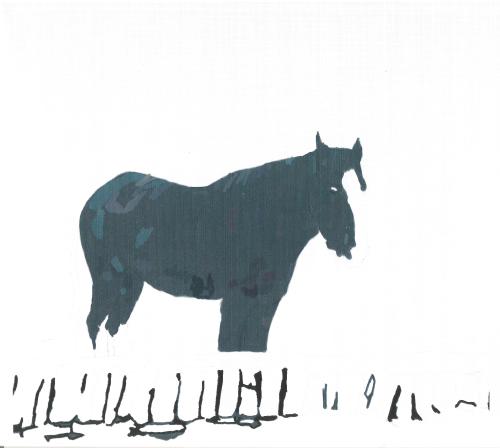 I add colour to the eye, no detail. The snout (apologies to horse lovers if I use the wrong word here) has very interesting colours and subtleties. I want to convey this without getting away from my blocky, heavy handed technique. I switch to a round brush after mixing beiges, light reds and orangey yellows. I let the brush dab and meander over the paper conscious of the style in which I work.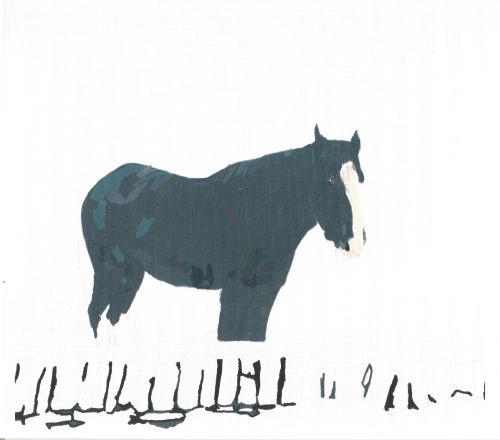 I mirror this technique on the lower rear legs. This will help pull the physical elements of the creature and the colour scheme together for the viewer.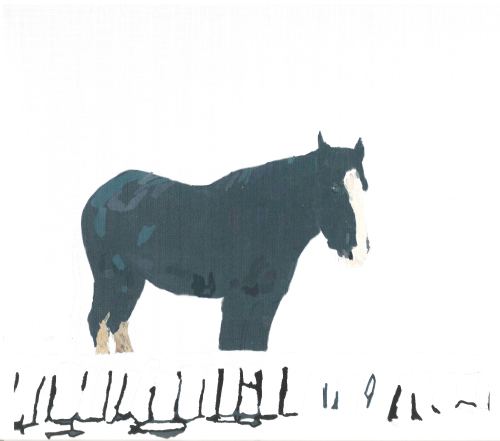 I mix a greyish brown and block the rough stones of the wall in. I am still painting with a fifth of linseed.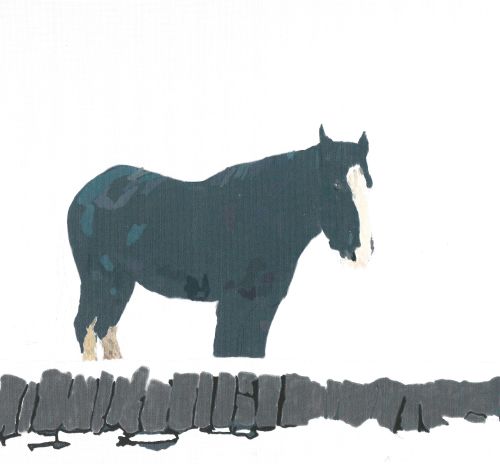 Now I go in deeper with lighter colours with paint that is a little more diluted.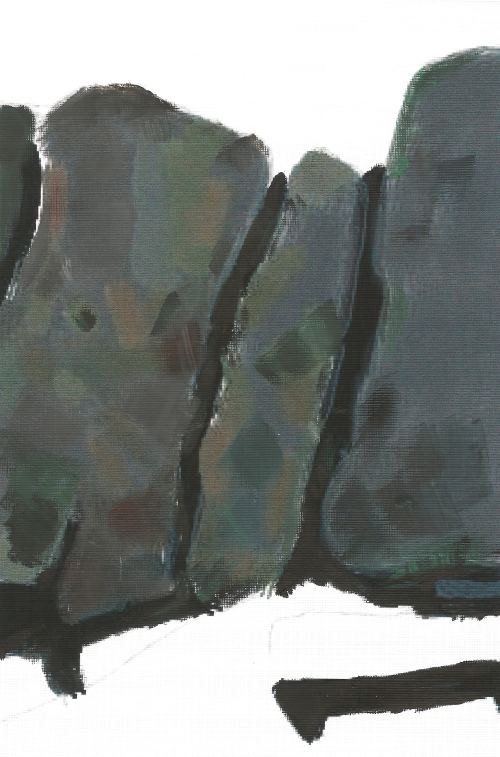 I work across all the stones giving little thought to the colours other than making them dull and lighter in tone than the greyish brown.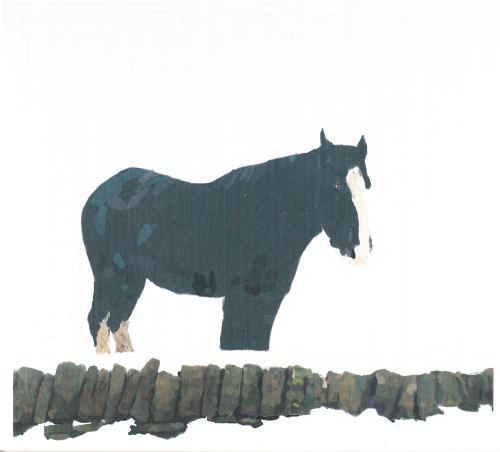 I pay more attention to the snow and details within it. I mark the darker parts with a mish mash of the wall colours but only in small areas. There is no layering to speak of in this painting. I used greys through to whites and very light blues to convey snow. The background is a very light grey green which I lay in as smoothly as possible.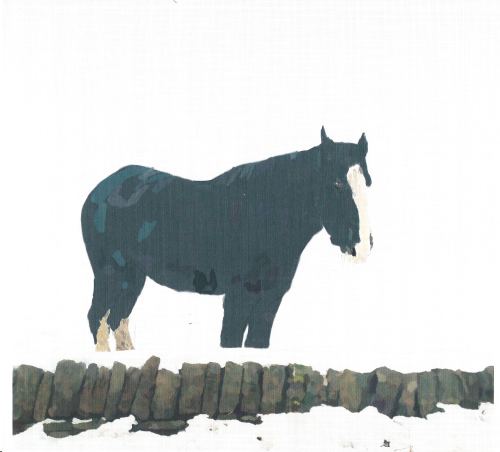 Finally I blend the colours after letting them dry for a couple of days. I use a decorators brush. Blending is a very valuable oil painting technique that I tend to rely on a lot because the results are excellent. Adding a few blocks of colour (about halfway in tone between the dark body and light colours we used on the legs and face) gives a more three dimensional look. I add hair to the mane, legs and face. I use light and dark colours to avoid a cartoon effect. A Horse Painting In Oils should convey the beauty and strength of this marvellous animal.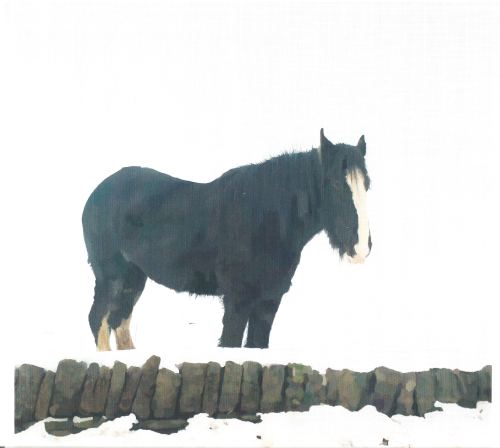 This is a really easy exercise in oils on how to paint a horse that will only take you a few days. Copy mine or try following the gist of the lesson with a photograph of your own. Horse Painting In Oils is a rewarding pastime and of course there is always demand for paintings, prints and greeting cards if you are out to make money with you art.
If you are looking at this tutorial on Horse Painting In Oils you may also be interested in Horse Drawing a three in one lesson
Return to Horse Painting


Return Home from Horse Painting In Oils